Tyre Fitting in Carlisle could not be easier. With TyreFitDirect we can supply and fit tyres to nearly all UK mainland destinations either on one of our mobile vans or at one of our depots. So if you are looking for tyre fitting in Carlisle you have just found your local online supplier. We fit tyres on almost all makes, models and derivatives of cars and vans and are available either online or on the phone.
At TyreFitDirect we pride ourselves in offering some of the best deals on the web. Please peruse our site to check out some of our offers. We look forward to fitting tyres for you in Carlisle soon. TyreFitDirect, the Carlisle tyre fitting company of choice.
Cumbria
Cumbria is a non-metropolitan county in the North West of England. Cumbria's largest settlement and county town is Carlisle. It has a population of around 499,800 people. Cumbria is also one of the most sparsely populated counties in the United Kingdom, with 73.4 people per km. Cumbria is predominantly rural and contains the Lake District and Lake District National Park, considered one of England's most outstanding areas of natural beauty, serving as inspiration for artists, writers, and musicians. Much of Cumbria is mountainous, and it contains every peak in England over 3,000 feet (910 m) above sea level, with Scafell Pike at 3,209 feet (978 m) being the highest point of England.
About Carlisle
Carlisle from Cumbric: Caer Luel Scottish Gaelic: Cathair Luail is a city and the county town of Cumbria. Historically in Cumberland, it is also the administrative centre of the City of Carlisle Borough in North West England. It is the largest settlement in the county of Cumbria. At the time of the 2001 census, the population of Carlisle was 71,773, with 100,734 living in the wider city.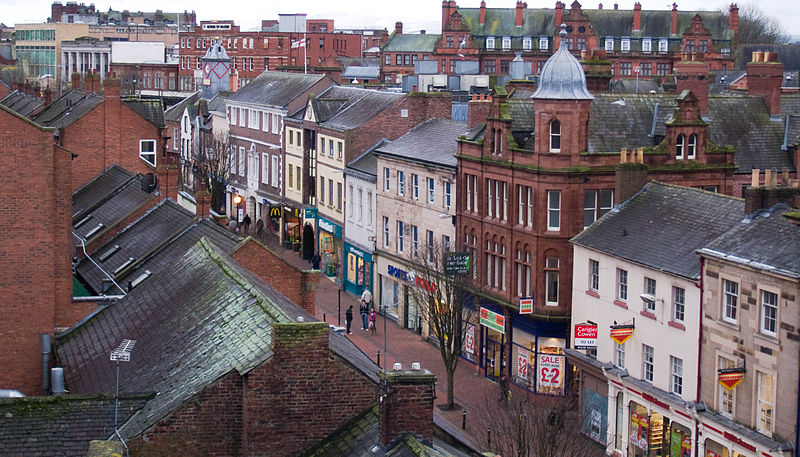 The early history of the town is marked by its status as a Roman settlement, established to serve the forts on Hadrian's Wall. During the Middle Ages, because of its proximity to the Kingdom of Scotland, Carlisle became an important military stronghold; Carlisle Castle, still relatively intact, was built in 1092 by William Rufus, and once served as a prison for Mary, Queen of Scots. The castle now houses the Duke of Lancaster's Regiment and the Border Regiment Museum. In the early 12th century Henry I allowed the foundation of a priory in Carlisle.