Tyre Manufacturers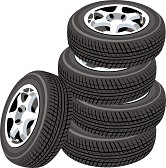 Having the optimal tyre fitted on to your vehicle is not straight-forward – an expensive tyre is not necessarily the best for you or the vehicle.
Factors such as model of vehicle, annual mileage, type of mileage, cost and driving style will all effect which tyres suit you and the vehicle.
At TyreFitDirect we understand this and because we are independent of all manufacturers we can offer the best advice possible for each customer.
In this section, we have highlighted some of the premium brands that are available for cars, vans and 4×4 vehicles.
Call us on 01525 720234 or 0776 669 3468 and speak with one of our experienced tyre advisors who can discuss with you the available options and you can choose the best tyres for your vehicle.